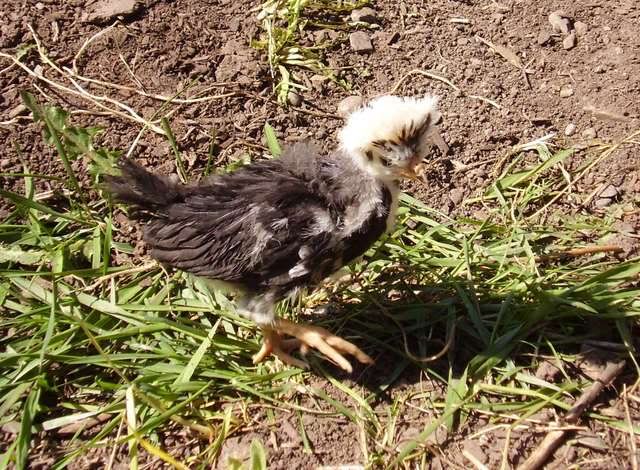 The chicks had another big day out today- even Beldar and Pria got to revel in the 70 degree sunshine. Beldar, Pria and "Little" Rockette can all squeeze through the fencing pretty easily, so we have to keep an eye on the flock and place boards along the base of it to keep Lucky's curious snout out of their safety zone. It was Beldar and Pria's first time out of the house and gosh was it exciting! They scratched in the dirt, ate dirt, ate grass, fluffed their feathers into the dirt... oh boy!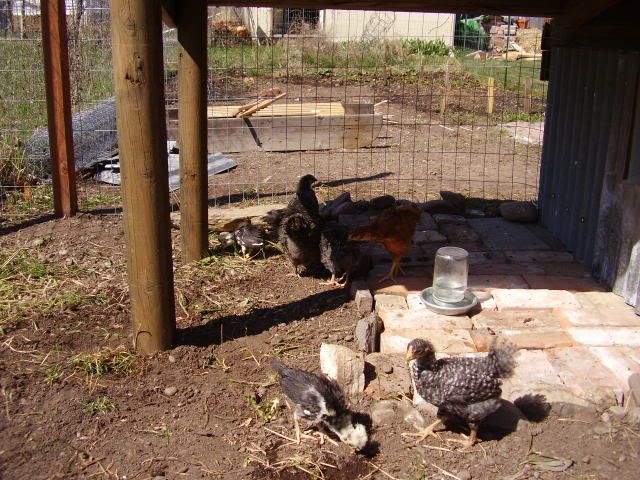 We finally built the chicken ramada to keep the snow off them in winter, rain off them in spring and fall, and blazing summer sun off them in the summer. It is a neat little addition to the chicken run and one that they already really enjoy.
This is a front shot of the whole chicken palace- ramada, covered side patio, and henhouse. I took it from the far plum tree covered corner of the chicken's run. The henhouse is not yet open for business because it still needs a light bulb for heat and light, mesh along the roofline ventilation, and some weather stripping along the doors and flaps. The chicks will probably move in about three weeks from now, which gives Matt and I plenty of time to do these last few adjustments.