Matt and I took advantage of some ridiculously nice springtime weather this weekend to start the run and henhouse. Just so you are down with the lingo;
a run
and
a henhouse
together constitute
a chicken coop
.
We started by researching the space requirements of chickens and visualizing how this would work in our yard. So you know; our henhouse is the correct size for 8 hens (we have 6) and the run we are building is the right size for about 20 hens. Wow. Hens are not real estate greedy, that is for sure.
Then we started building the fence and gateposts. The ground was a bit frozen in places but Matt is a fence post digging machine. I probably dug two vertical feet worth while he did about twelve feet of digging. Good man! Instead, I worked on digging the space for the brick footing of the henhouse. This was an idea I had to keep the hens clean and dry. Much easier then renting a cement mixer, and we already had all the materials leftover from older projects.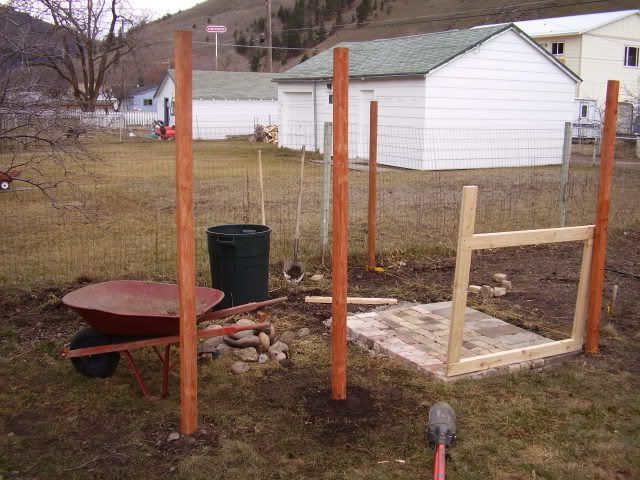 After the posts were set, brick patio built, and a quick visit to our friend's place who has a sweet dado blade on his table saw, we were ready to build us a henhouse. The house is 4W x 4L x 4tall in the front, dropping to 3 tall in the back to shed rain and snow. Matt and I have never built a structure like this, so it was a fun little challenge.
You can see me resting my arm on a recycled roof rafter- virtually all the lumber for this project we already had left over from other renovations or from friends that have gotten rid of stuff. We've spent less than $100 so far, including chicks, food, medicine, lumber, fencing, hardware, books, and tools. The blog, of course, is free.
Once the four walls were framed and joined, the roof was really easy to frame and nail into place. We have a whole roll of roofing paper donated to us from our nice neighbor Dave, so we set the paper on in preparation for the corregated tin that we'll purchase to truly roof it. Lastly, Matt and I built the nest boxes (in photo on the right) and perches (not in the photo) inside the framing with our scraps from the rest of the project. They only need two boxes, hens apparently share very nicely.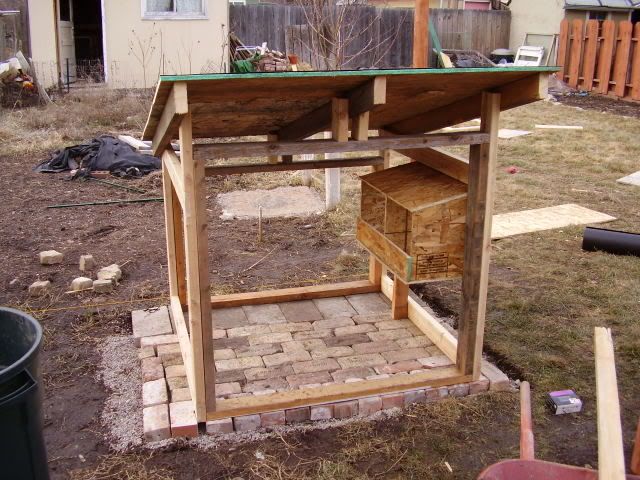 We are waiting for a shipment of free plywood from a friend to move forward from here with the sheathing and siding. The chicks have about 5 to 6 more weeks before they can move to the outdoors so there is no rush.